One of Troop 8787's yearly traditions is a Winter Camp hosted at the Camp Mabry military installation in Austin, TX. This is a great opportunity for Scouts to have fun with some unique patrol competitions, as well as a chance to work on several merit badges during the camp. Don't forget the Camping Checklist for what you'll need to bring, and keep an eye on the weather forecast – you may earn the Polar Bear award!
Winter Camp 2019
The 2019 Winter Camp dates are Thursday December 26, 2pm through Sunday December 29, 6pm. Below you'll find all the sign-up links for this event as well as information on where to go inside Camp Mabry.
Scout and Adult general signup
Scout Merit Badge class choices
Directions
The main entrance to Camp Mabry is on Maintenance Road, off of West 35th Street, just west of Mopac Blvd. At the security gate, tell the guard you are part of the Troop 8787 Winter Camp, and all adults in the vehicle may be asked for a photo ID. After the security check, proceed north on Maintenance Road and turn on to the first street available on the right (this is an unnamed road on the map). Follow the road until it makes a Y, and take the right fork – this will lead you to the "Park Rd" area on the map, where there is a small parking area and pavilion where we will be setting up camp.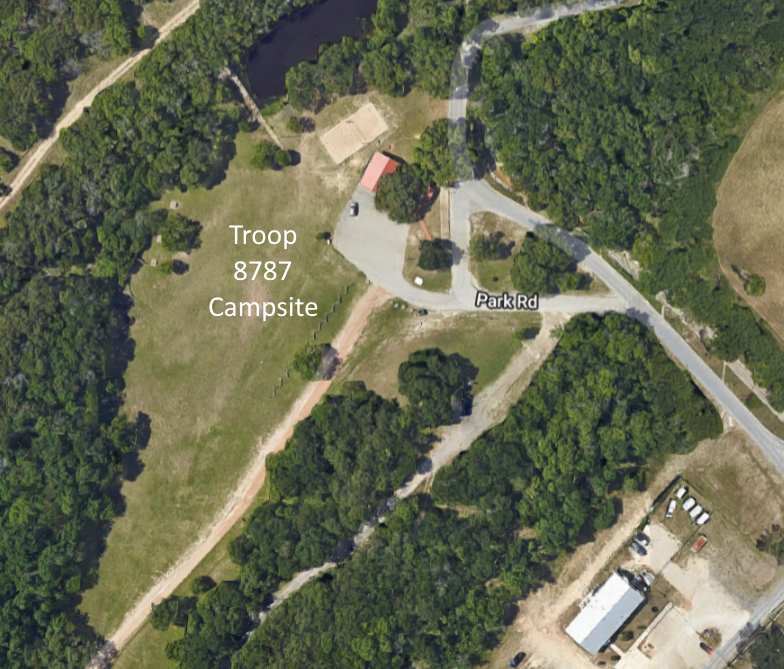 To exit Camp Mabry, continue along the same road until it meets a crossroad, and turn left. Take this road until it meets General Mabry Drive, and turn left (north-bound). Follow General Mabry Drive until it meets Fairview Drive, and turn left on Fairview. Follow Fairview Drive until you can turn left on Maintenance Road, and then stay on Maintenance Road past the guard's gate and exit Camp Mabry onto West 35th Street.