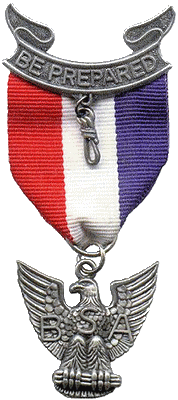 Eagle Scout is the highest rank attainable in the Boy Scouting program of the Boy Scouts of America (BSA). A Scout who attains this rank is called an Eagle Scout or Eagle. Since its introduction in 1911, the Eagle Scout rank has been earned by more than 2 million young men. The title of Eagle Scout is held for life, thus giving rise to the phrase "Once an Eagle, always an Eagle".
Requirements include earning at least 21 merit badges and demonstrating Scout Spirit through the Boy Scout Oath and Law, service, and leadership. This includes an extensive service project that the Scout plans, organizes, leads, and manages. Eagle Scouts are presented with a medal and a badge that visibly recognizes the accomplishments of the Scout. Additional recognition can be earned through Eagle Palms, awarded for completing additional tenure, leadership, and merit badge requirements.
Below are a few links to the Eagle documents and forms on the Capital Area Council web site.
Since we are linking out to the BSA Capital Area Council web site for the above links, there is a chance that the source links change and the above no longer works.  If this is the case, please let the website administrators know.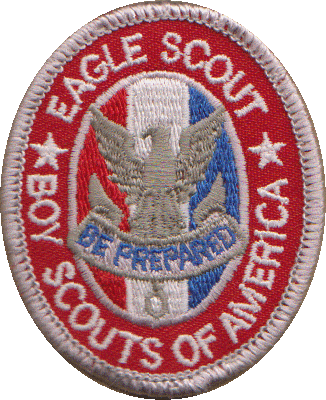 The National Eagle Scout Association site is dedicated to advancing through the Trail to Eagle.
The link below contains the names and addresses of prominent U.S. and Texas leaders or groups who will usually send letters or certificates of congratulations to new Eagle Scouts. Be sure to send a request to your State Representative or Assemblyman, U.S. Congressman, U.S. Senators, Mayor, City Council, County leaders, etc. as many of these will send nice letters.
http://www.usscouts.org/eagle/eaglecongrats.asp
Good luck on your trail to Eagle.

Eagle Scout Palm Application (135 KB)
Eagle Scout Publicity Form – Austin American-Statesman (12 KB)
Eagle Scout Rank Alternate Merit Badge Application (462 KB)
Eagle Scout Rank Application (552 KB)
Eagle Scout Rank Application (local council procedures) (832 KB)